First, my thanks to Andy Larsson for the temporary use of band width!
I have some serious deck-clearing to do, and as a result, I have an Uberti 1873 in .44 WCF; a Rock Island Armory version of an Ithaca Model 37 riot gun in 12 gauge; a Glock 40 in 10mm; a Glock 41 in .45 ACP; and a Ruger Blackhawk in .41 Magnum to re-home. You'll find them all aggressively priced. I am not looking for trades, thanks.
The Model 1873 is the Deluxe Sporting Rifle configuration, with 24 ¼-inch barrel, nicely casehardened and blued, as new with fewer than 100 rounds through it. A Marbles tang peep sight has been fitted. The capacity is 13 rounds. $1100 plus $50 shipped to your FFL. If you don't want the Marbles sight, $1000 plus $50 shipping.
If you plan to load for it, let's talk about RCBS dies, brass and bullet molds.
Rock Island Armory is importing the Ithaca Model 37 "trench" gun copy from Derya Arms in Turkey and the action is as slick as the Ithacas. It is all steel and walnut, cylinder bore, five-round capacity, 2 ¾-inch chamber, new, unfired and solid. $275 plus $50 shipping to your FFL.
Here is a review: [url=
https://www.thetruthaboutguns.com/gun-r ... mory-tpas/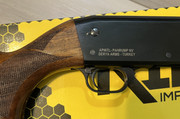 The Glock Model 40 long-slide, 10mm MOS Gen 4 comes with three 15-round mags and the plate system to allow mounting various brands of optics. This is the hunter's Glock, easy to shoot for this caliber. It wears the excellent Timney Alpha Competition Trigger, with weight of pull just below two pounds but the original trigger parts are included. The internals have been polished following the MCarbo's instructions. Extended Glock slide release. Low round count. $600 plus $45 for my FFL to log it into his books and ship it to your FFL.
The Glock Model 41, .45 ACP, Gen 4 is Glock's hybrid .45, with their 5.3-inch barrel and slide weight balanced for competition. MCarbo 5-pound firing pin spring installed and internals polished. Extended Glock slide release. Three fifteen round mags, low round count. $500 plus $45 to your FFL. Will also include my hand-made version of a chest holster and harness for it; scabbard is 8-9 ounce veg tan, wet molded, double-stitched and copper riveted.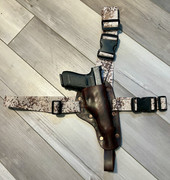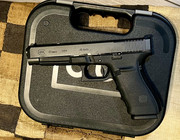 This Ruger Blackhawk, .41 Magnum, 6 ½-inch barrel came to me used but not abused. I did send the cylinder to Doug Phillips in North Carolina for honing the chamber mouths to .4115 for enhanced accuracy with cast bullets. I installed a Wolff reduced power trigger spring and the Ruger Super Blackhawk hammer, but the original parts are included. Also swapped the base pin for an oversized pin from Belt Mountain. Grip frame shows some handling wear at butt and trigger guard. $600 plus $45 to go through my FFL's books. Have dies, brass and bullets, separate deal. Ask.