Dear guys, the following is my report of my second trip to the Billy Dixon Ultra Long Range Shooting facility for what I choose to call the 1st Annual Levergun's Billy Dixon Shoot. I'm going to report things from a personal perspective, and I would appreciate it if other attendees like Griff, Lil' Doc, Tym and others would please add their input to this report!
I drove out from California with my good friend Jim Williamson (Shootist) aka "Professor Loudenboomer" and we arrived Thursday night in Hotchkiss, CO. Hotchkiss is a very small town that appears to be in a valley surrounded by mountains with the Gunnison River running through it. Even in the summer it is still very green and very beautiful. Because I was traveling with Jim, I was able to stay at David Torkelson's guest house (David is also a Shootist). The view from the front porch of the guest house is just awesome, and I enjoyed just sitting on the bench there and enjoying the scenery.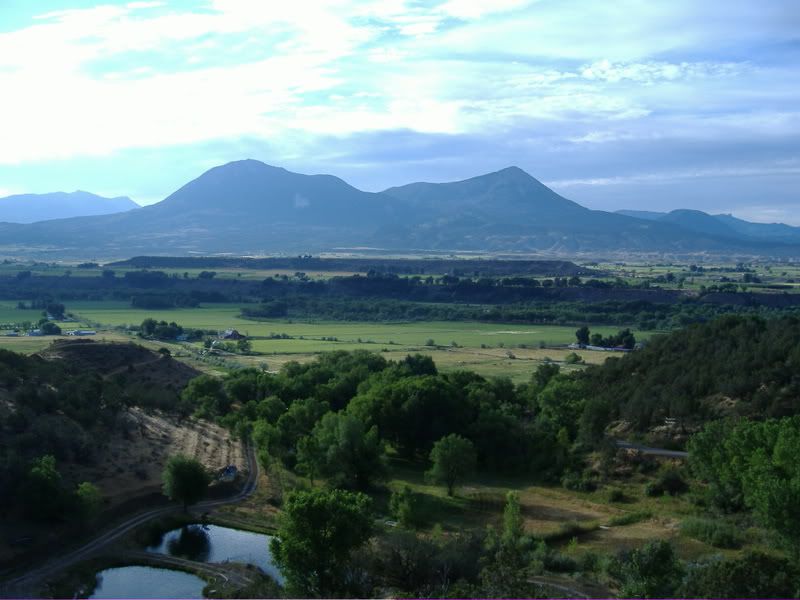 Friday morning, Jim, David and I went to Zack's for breakfast, a local restaurant famous for its BBQ dinners. Breakfast is also very good and if you go to Hotchkiss, be sure to have dinner there. Afterwards, we proceeded to the range to chronograph my new 45 Colt loads in my Ruger Bisley using some special 360 grain gas checked Keith bullets that are hard cast. These bullets are a special offering from Frank at Mt. Baldy Bullets and use a custom mold belonging to Daniel Marchel (of "454 Long" fame) who graciously allows others to use his mold. I am not aware of any other company who offers this bullet and if you are interested, please contact Frank at Mt. Baldy bullets:
http://www.mtbaldybullets.com/
I was concerned that these new loads were going to be too hot, but they turned out to be right on the money at 1100 fps which I consider to be a max load. I will probably reduce the charge by half a grain to get velocity to 1050 fps or so as I would like to keep the bullets sub-sonic. I used a front bag rest and sighted the pistol in at 2-2 ½ inches high at 25 yards. I was told this would put me close to a 100 yard zero. Recoil off the bag was substantial and would result in the muzzle going vertical with every shot. Firing these loads took all my concentration and is definitely not for whimps!
Afterwards, Jim and I proceeded to the 300 yard berm of the Billy Dixon range to sight in my new 485 grain 43 Mauser loads in my 71/84. Previously I had only shot them out to 200 yards in CA and I wanted to learn which range settings I would need at longer ranges. At 300 yards I needed an additional 100 meters on the rear sight, but at 500 and 600 meters I only needed an additional 50 meters, and at 1000 yards I could set it at 1000 meters even. Subjectively, it seems the heavier bullet has a flatter trajectory than the 400 grain bullets we use to duplicate the original 43 Mauser load. This was also my first time using cross-sticks to shoot off of.
While we were at this, a white Prius drove up and a big fella stepped out of the car. To my surprise, he introduced himself as Lil' Doc from Leverguns. He had driven 1000 miles from Okalahoma to attend the event. We decided to break out his rifles and sight them in at the 600 yard line. Doc had with him two beautiful rifles, an 1876 Uberti in 45-60 and a Browning (Moruku) 1885 in 45-70. If memory serves, it only took him a few shots to get on target with the 1885.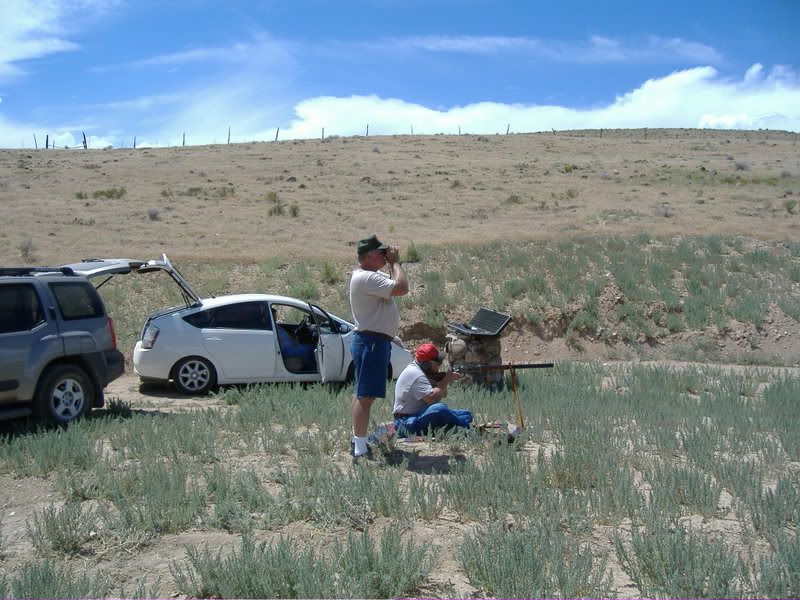 We then moved closer to the 200 yard berm and shot pistols. Jim was hitting the Indian on horseback pretty frequently at this range with his 44 Special. I managed to only hit him once not being a very good shot, but that 360 grain bullet obviously had a wallop! Friday night Griff joined the rest of us for dinner at a good Mexican restaurant in town.
Saturday the sky was cloudy which gave us a good respite from the heat. David Torkelson gave us an introduction to the range and described the safety procedures. We decided to have everyone use Stengel's range which has concrete benches and allows you to shoot out to an 18" steel gong at 721 yards for purposes of sighting in rifles. There is also a steel coyote at 437 yards.
My buddy Tym had his SM Lee Enfield in 303 Britt with him for this trip. I have a special affection for this rifle as it is the very one that Tym took me shooting with years ago that spurred my interest in firearms. After only a little sighting in, Tym could repeatedly hit the gong at 721 yards with the factory iron sights. I could actually see the bullet arc into the hill with the optics I was using.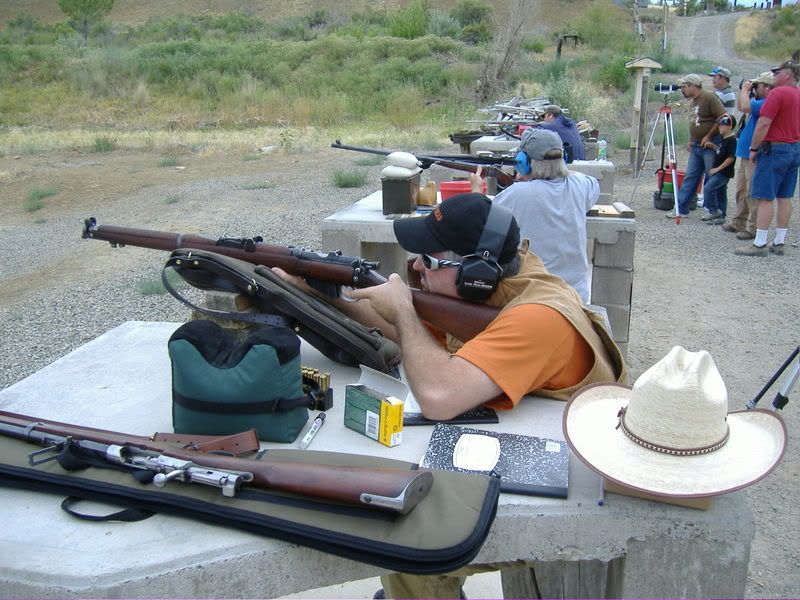 Meanwhile, Jim W. was shooting at the 437 yard Coyote with his 44 Special +P loads and coming really close! By the end of the weekend, I think everyone was impressed with Jim's handgun skill.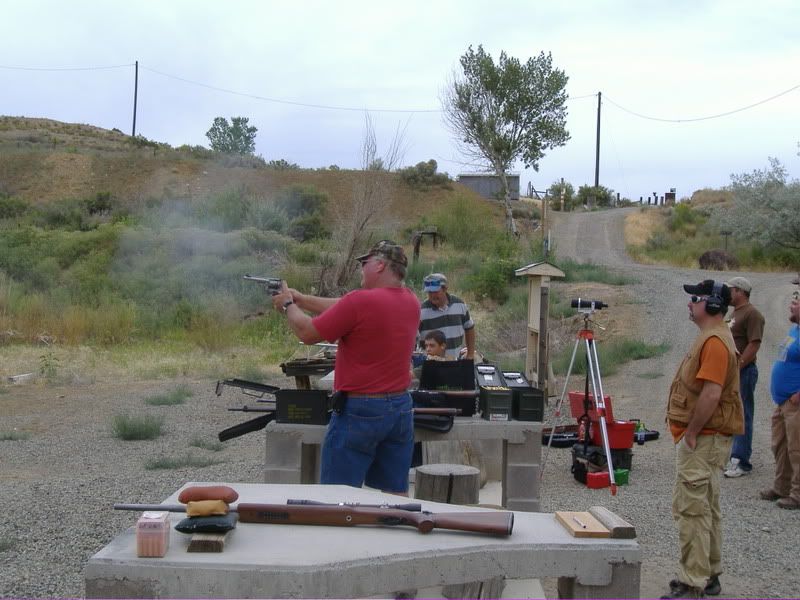 Griff loaded some BP cartridges on the spot for his 40-90 Shiloh Sharps. This cartridge packs a good kick and spits out a 350 grain bullet at 1600 fps if I remember what Griff told me correctly. The cartridge itself looks like a 30-30 on steroids, but has a reputation for being difficult to create accurate loads for. I think by the end of the weekend Griff received some good pointers on how to better load this cartridge but I will let him speak to that.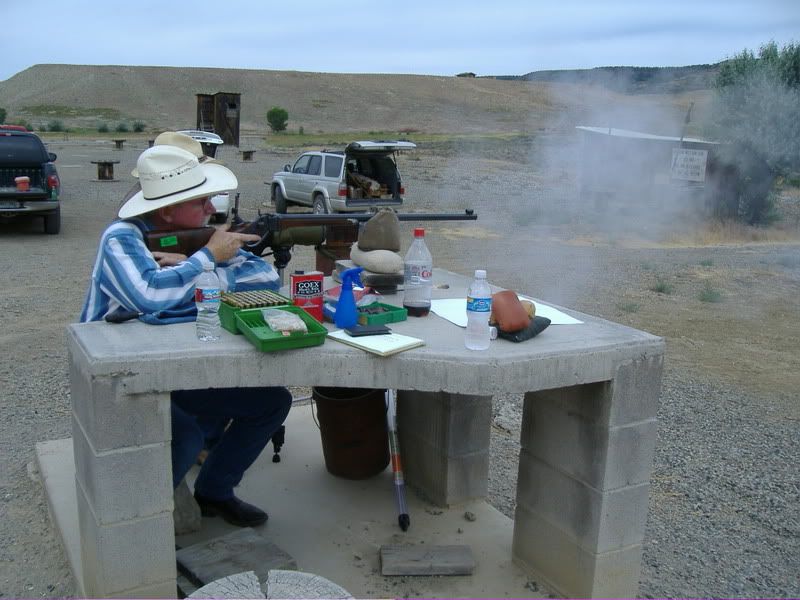 After everyone had sighted in their rifles we proceeded to the 1000 yard berm of the Billy Dixon. A gentleman named Randy was having difficulty hitting the steel targets at this range with his Sharps (I believe it was a Pedersoli in 45-70). With David and Lil' Doc's help we finally got him "on steel."
I was able to sight-in at 1000 yards pretty easily with my 71/84 Mauser with Jim's help on optics. Tym also wasted no time getting on steel with his M1-A.
Here is Griff and Lil' Doc at the 1000 yard line.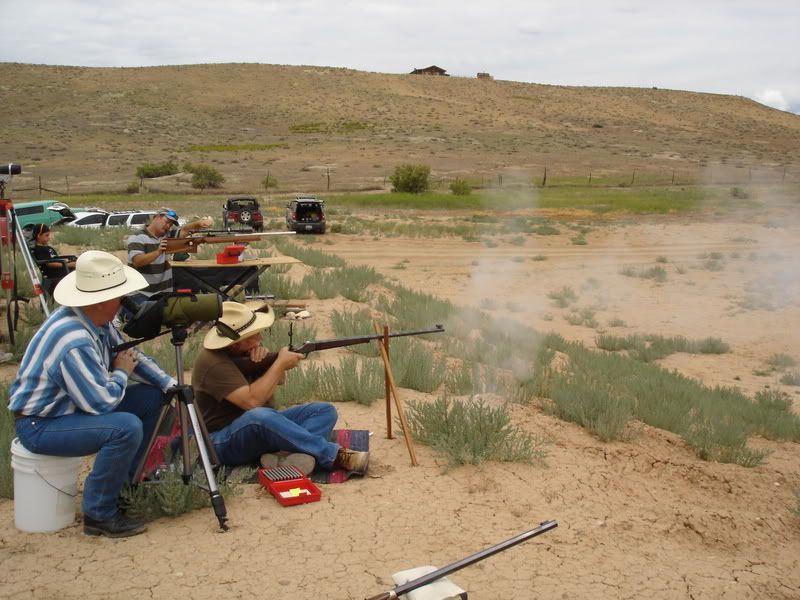 We also had some local folk with some impressive bench rest rifles. They were teaching their sons to shoot with a 7mm Rem mag bench rest rifle. Actually, with the heavy weight rifles and porting, these guns were not beyond the ability of these young men to shoot. While you can't shoot the artistic steel targets with these sorts of calibers there are smaller heavy weight steel diamonds for scoped rifles at the Billy Dixon range. Mr. Mahan is the gentleman standing in the picture, and he is an excellent shot at very long range. He hit a 14"x14" steel diamond at 1538 yards with his bench rest rifle.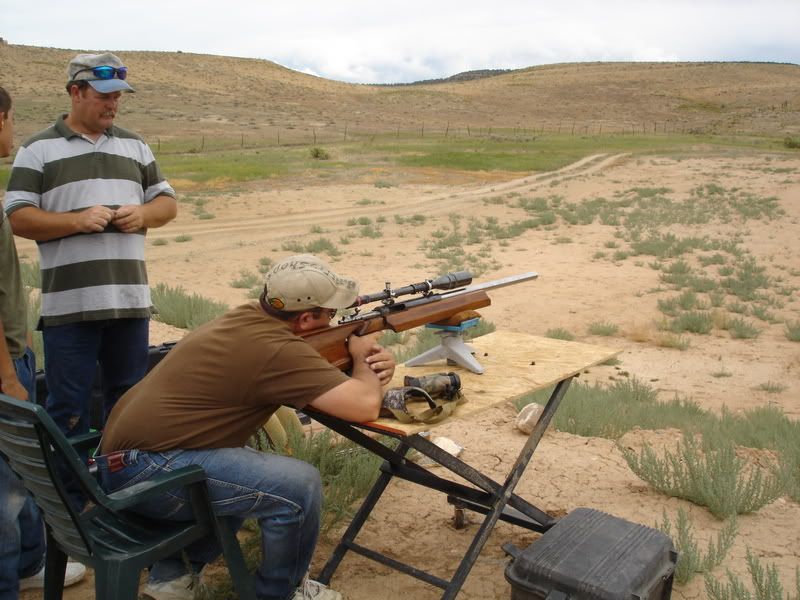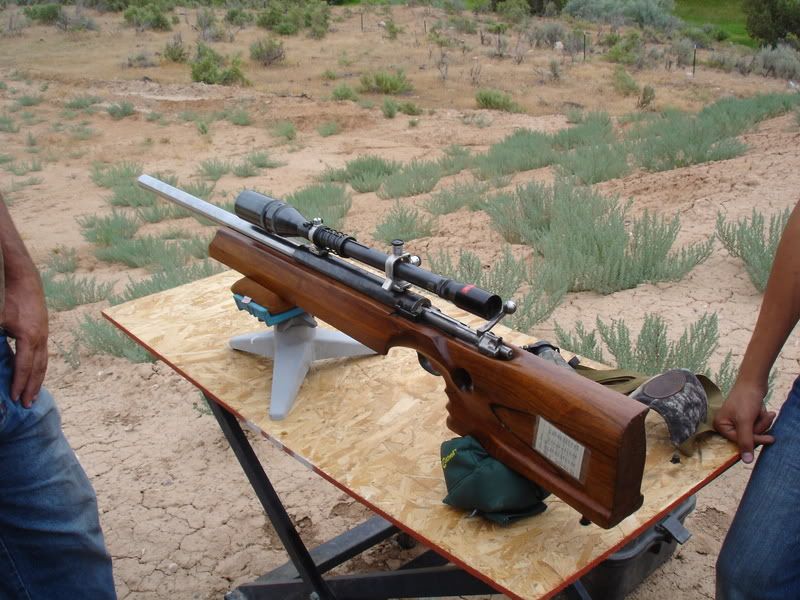 We moved to the 1538 yard line and with multiple eyes on optics managed to get most of us ranged in to what is known as the "Billy Dixon" target which is 3 Indians on horseback. Tym and I were surprised to discover that the Enfield in 303 Brit apparently was stable even at this ultra long range. In fact, Tym made the best shot of the whole weekend in my opinion when he plugged the center Indian right in the chest using the factory iron sights and from a seated position.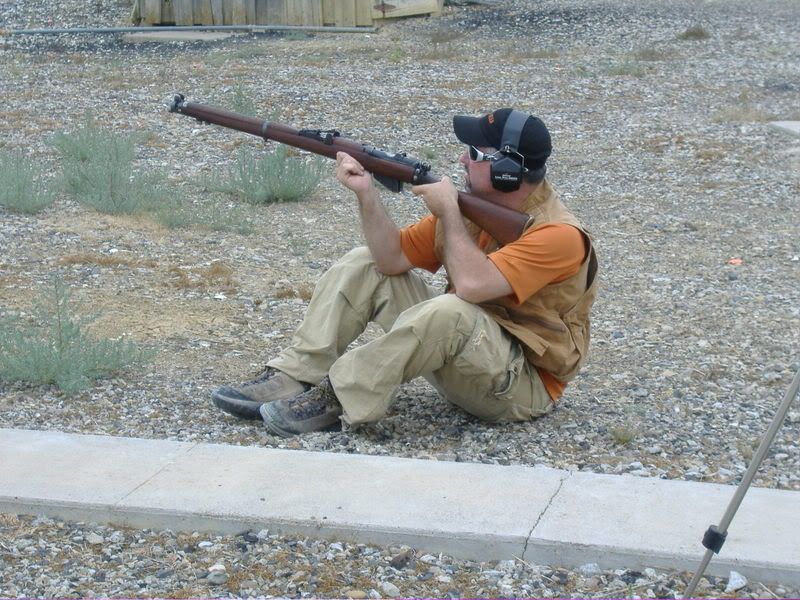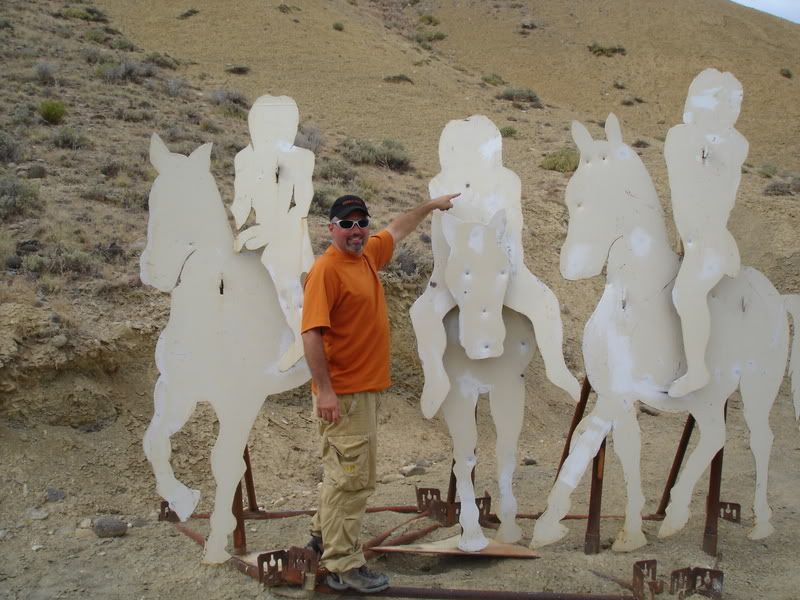 Here is Lil' Doc with his 1885 in 45-70. Lil' Doc proved to be a capable marksman as he moved quickly from hitting the closer targets at approximately 1300 yards all the way to the Billy Dixon target. That's Doc on the left.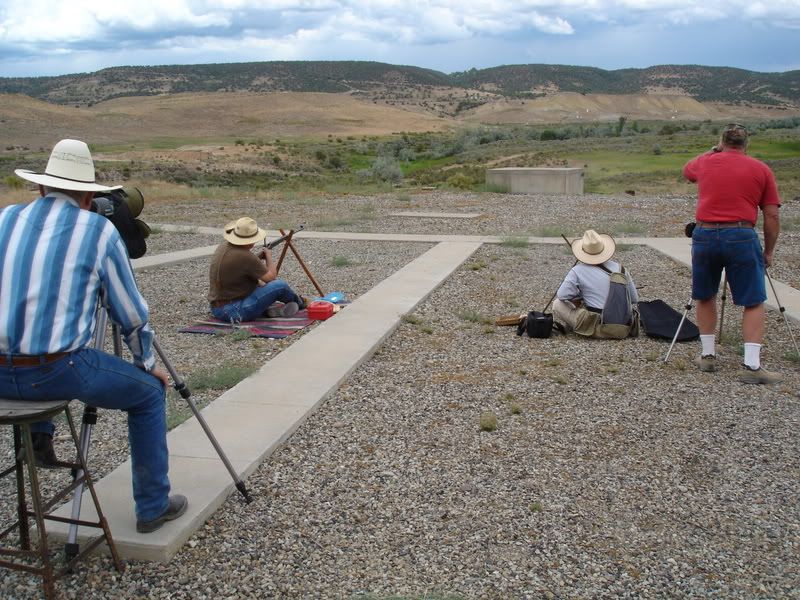 David T. had with him a very rare customized Peabody rifle in 45-70. It is best described as a pre-Martini design with a hammer. He had just finished putting a new taller rear sight on it for purposes of this shoot.
As it turned out, the rear sight was still not tall enough to get on target at 1538 yards. David was still a little low of the target. As he stood up, I said "What about using some hold-over on the front sight?" David smiled and said, "What, you mean Kentucky windage? I don't usually do that". Enter my buddy, Jim Williamson who says, "Mind if I try?"
Jim managed to hit the Billy Dixon target with David's rifle within 3 shots if I remember right, then stood up and said "I'm done!" We all had a good laugh at this, including David.
Unfortunately, I was not able to hit the Billy Dixon target at all and I was not sure if it was my lack of shooting ability or if the new 485 grain loads were unstable at ultra long range. After we returned from painting the targets down range and returned to the Billy Dixon line, we discovered that Mic McPherson (Shootist) and By Smalley had shown up. Mic is a ballistician, gunsmith and author of numerous books and articles and By is literally a rocket scientist and together they have created new revolutionary cartridges known as SMc cartridges. For more information, here is a link to their website:
http://www.superiorballistics.com/
We also took time to sight-in Mic's Shiloh Sharps in 50-90 in preparation for tomorrow.
We went to a late dinner at the local Mexican restaurant again, and then later that night "Doc" Boyle, another Shootist, arrived at David's house.
Sunday morning was sunny and clear, and it was obvious it was going to be a hot day. We had enough of us to have our first competition for the Billy Dixon target. Each person was given 5 shots and whoever could hit the target on their very first shot just like Billy Dixon did would win a Billy Dixon medallion.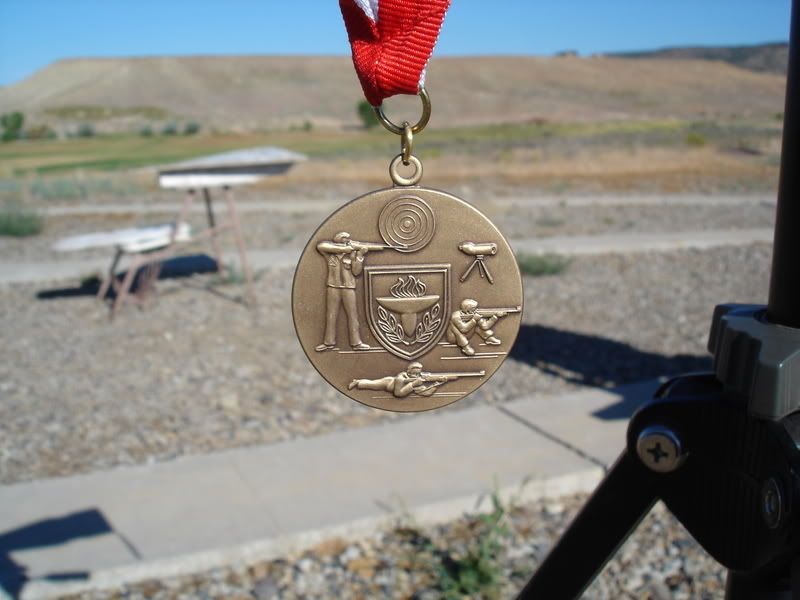 Whoever scored the most hits in those 5 shots won the small pot we had all put into. While it was a competition everyone wanted his friend to make the shot and there was a very strong sense of camaraderie and co-operation the whole weekend that was best exemplified by this photo taken on Sunday.
Here are David T. and Lil' Doc at the Billy Dixon line.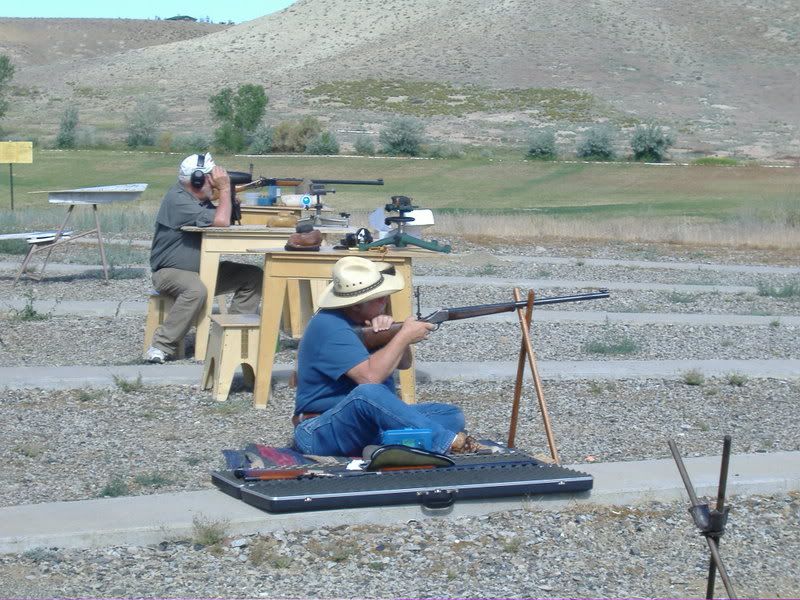 In the end, it was Doc Boyle and his Pedersoli Sharps in 45-120 who won the pot as no one hit the Billy Dixon target at all except for Doc that morning. This rifle with BP loads really hits hard on both ends!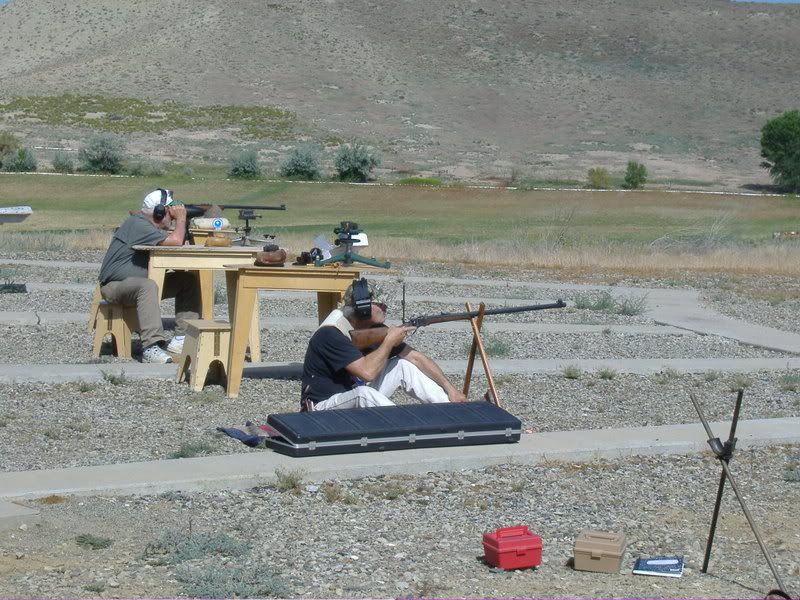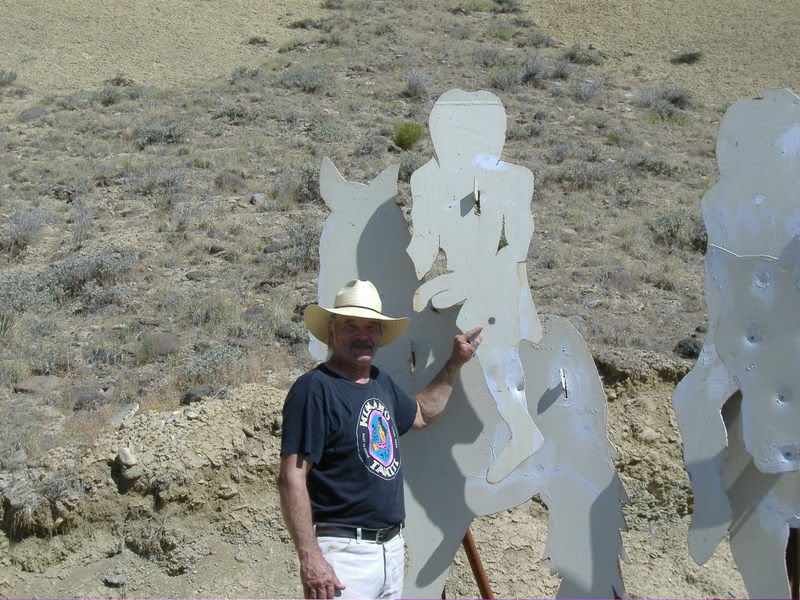 David Torkelson pounded the 1538 yard diamond with his 22x45 SMc rifle with respectable groups. It was also on Sunday that Jim also shot the 18" gong at 721 yards off hand 3 times in a half-hour with his own 71/84 Mauser.
Later in the morning, Mic fired my 71/84 Mauser using the 485 grain and 540 grain bullet loads himself. He was able to hit the Billy Dixon target with the 485 grain load/bullet but not with the 540 grain load/bullet which we determined was not stable enough. While I was gratified to learn that the 485 load was stable and that all our hard work to develop this load in preparation for this event was not wasted, I was frustrated that I could not hit the target myself when it seemed that everyone else had managed to do so.
Later in the afternoon as people were leaving to start the long trek home, Mic's son Joe arrived. Since they were going to shoot some more, I decided to make more attempts at the Billy Dixon target. Mic was kind enough to be my eyes using some good optics. I continued to dance around the target but not hit it. Mic commented that maybe I had fouled the barrel, so I went and got my cleaning kit and my friend Doc Boyle loaned me his cleaning rod, and I went to work. I have to say the bore was pretty messy!
Afterwards I returned to the shooting line with Mic on optics. I believe it was on my 3rd or 4th shot that Mic called out "hit!" I couldn't believe it, after two days I had finally hit that target! I shot again, and again Mic called out "hit!" I hit the target two times in a row. I missed the 3rd shot, but that was OK. Months of planning had finally paid off. I'm particularly grateful to Mic and Jim Williamson who helped me every step of the way, from load development, to actual hand loading and testing, all the way to the firing line. I could not have done this without their help. If I can conclude one thing, it's that these old military rifles like the 71/84 Mauser and the Lee Enfield can really shoot and that ultra long range shooting is not just a game for Sharps, Hi-Walls and sniper rifles.
In the end, there were 21 shooters at the event with over half of them locals and the rest from 5 states. Everyone got on target with either their own rifle, or someone else's. I think everyone had a pretty good time, and learned a lot. I really enjoyed meeting our own Griff and Lil' Doc as well as spending quality time with David T., Doc Boyle, By Smalley, Alan Amman (Shootist), and of course Mic and Jim. I'm glad my Buddy Tym could also attend the event. Next year's event is tentatively scheduled for the 3rd weekend in August and more shooting games are already being developed for the range. I hope to see some of you there.
-Tutt
Text by Andy Tuttle
Pics by Andy Tuttle and Tym Hurst