It's taken a while to get this done . Over three years, two hurricanes and rotator cuff surgery in between but it looks like it's finally coming together. After 4 different design prototypes and testing, I posted a picture or two here and getting some input on how to improve it I finally realized that one style would not work for everyone so I settled on two styles. Next step was to get the prototypes done and tested then apply for the patents. Got that done and the prototypes shipped off to the CNC machine shop to be made. Hooray, we're rolling now right? Well, not quite. The CNC shop had some machines that went down that put things on hold. Now, 6 months later we finally get that worked out (new CNC machines shop) and the parts are being made as I write this.
Yahoooo
When I first started this project that first one was fixed, no windage or elevation (W&E) adjustment. W&E had to be done with the front sight. It just replaced the ugly bolt top safety with at least something that was more pleasant to look at and actually served a purpose.
After trying several modifications to make it W&E adjustable and not feeling good about any of them covering all the bases I decided to make two different versions.
This one will be called the Bolt Mounted Peep/Safety. It will replace the ugly safety with a fixed W&E peep sight but it will still serve as a functional safety.
When it's in this position the firing pin is blocked and it's obvious the safety on because you can't see through the sight.
Once it's turned so you can see through it for a sight picture it is now off safety and ready to fire.
The projected ship dates for this Peep/Safety should be january 2010. I'll post the price once we get some details worked out.
This one will be called the Bolt Mounted safety replacement elevation adjustable peep sight. It will eliminate that ugly wart safety. Just for clarity, the Rossi 92 still has the 1/4 cock notch on the hammer just like the original Win 92. The Wart safety didn't appear on the Rossi's until about 1999-2000 and the EMF imported rossi's didn't have them until 2006.
Thanks to Doctor Tim Skinner for modifying his sight and making them for me so they work with my adaptor this Bolt Mounted safety replacement elevation adjustable peep sight will be ready to ship before the end on this month.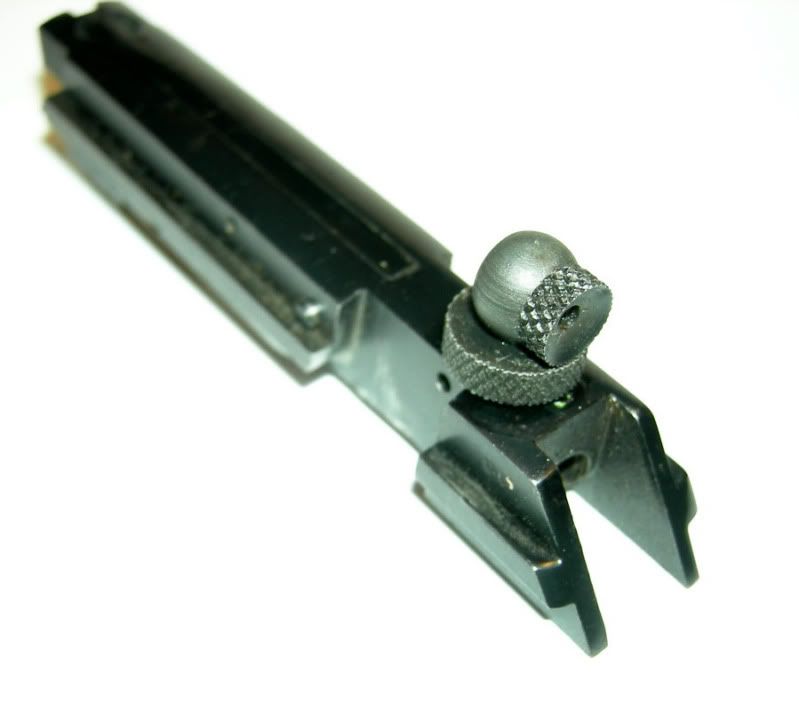 A lot of you guys have ask abut this so itf you are still interested I'm taking order now. The projected price for now will be $59.95 with $7.95 USPS Priority mail S&H.
Best way to contact me is my email. (see below)